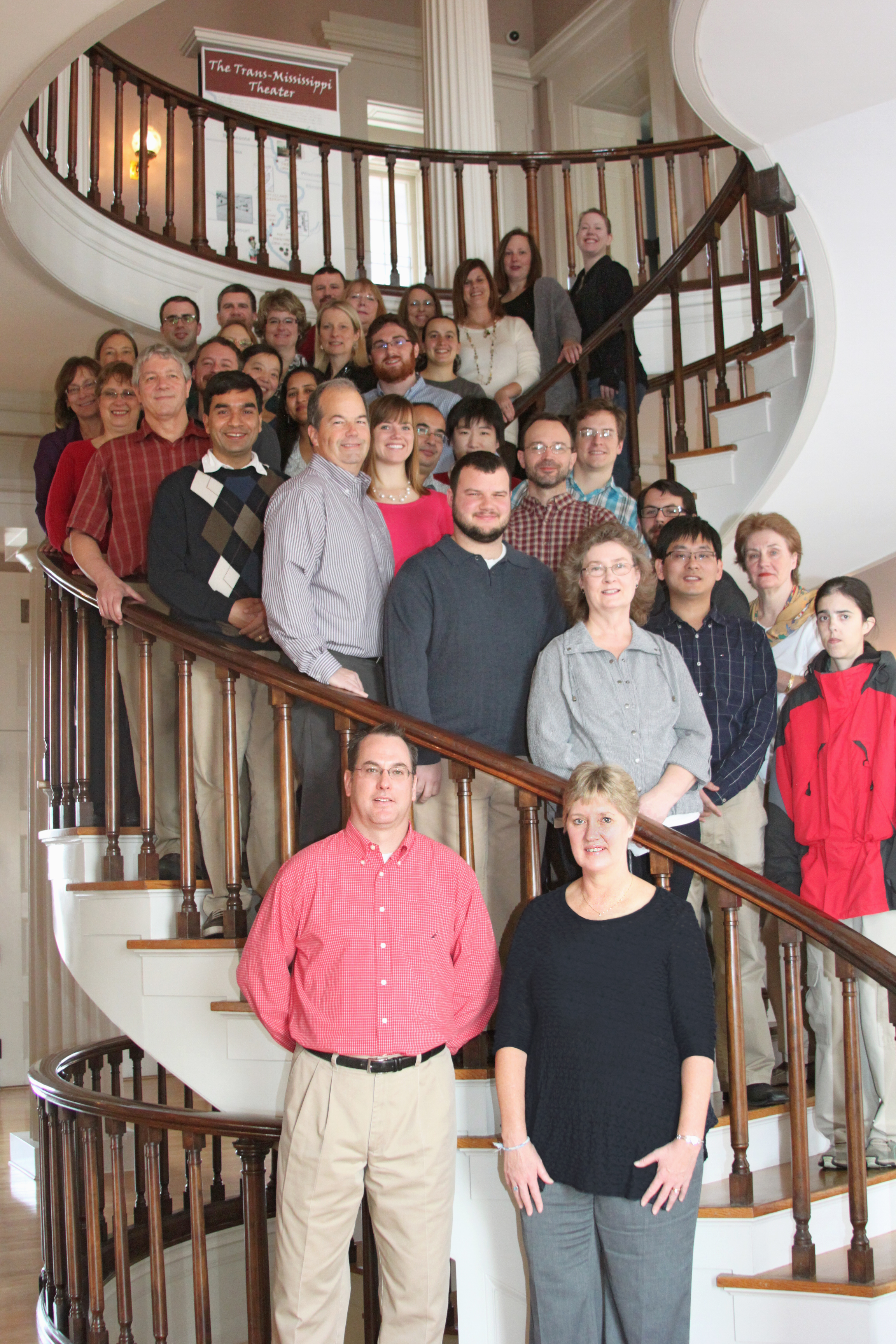 Biostatistics
Data Management
Fiscal/Administration
Database/Information Technology
Protocol Coordination
Quality Management
Regulatory

Our Experience
In each of the projects managed by the CTSDMC, the Center has provided leadership in statistical design, data management, and statistical analysis.  We have been, and continue to be, responsible for all data capture, data management, and data analysis for the clinical trials supported by the Center. 
We support clinical coordination and on-site monitoring, and have established and managed agreements with multiple central laboratories and outside consultants.  The CTSDMC also distributes funds to the participating clinical centers. The studies supported by the CTSDMC have ranged from relatively small Phase 2, uncontrolled studies to large, multicenter, randomized and controlled Phase 3 clinical trials.  Faculty investigators at the Center work with study investigators to establish appropriate specific aims and hypotheses, and to define outcome measures, control groups, inclusion and exclusion criteria, and analysis plans.  Once the study designs have been finalized, our statisticians develop detailed statistical analysis plans.
Our current studies have presented a variety of statistical challenges , and the biostatistics faculty investigators at the CTSDMC have developed innovative analysis methods to meet these challenges. For example, the FDA requested that the Center develop Bayesian methods for the CIT studies that would support the licensure of individual clinical centers to manufacture pancreatic islets (the biological product in the CITC study) for transplantation.  This project supported two Ph.D. dissertations, and the results from this work are currently being prepared for publication.  Dr. Kathryn Chaloner, Head of the Biostatistics Department at the University of Iowa, is an accomplished Bayesian statistician and was responsible for developing the Bayesian licensure methods.  Dr. Ying Zhang collaborates with the CTSDMC on the COSS and CITC projects.  He is an accomplished statistical methodologist and trialist, and is responsible for the biostatistics team at the CTSDMC.  Dr. Zhang's primary responsibility is to develop and supervise the implementation of the statistical analysis plans.  Among other projects, he has developed a novel and effective method for monitoring for futility in the COSS study, and is currently preparing a manuscript to present this method to the biostatistics community. 
During the process of designing and implementing clinical trials, the CTSDMC develops measures and maintains a reporting schedule to monitor progress and compliance.  The schedule includes weekly reports for the executive committee, quarterly reports for the investigators, and annual or semi-annual reports for the DSMB.  These reports include tables documenting recruitment, randomization, follow-up, adherence to protocol, and receipt and quality of data.  The reports are posted on the study webpage and are circulated to Sponsor, study leadership, investigators, and coordinators as directed by the Steering Committees and the Sponsor. 
Biostatistics
The Biostatistics team has diverse areas of expertise and fully supports all statistical aspects of clinical trials. The team includes University of Iowa Department of Biostatistics faculty members and full time staff biostatisticians. CTSDMC biostatisticians have considerable experience in:
Traditional and adaptive study design
Protocol development for multi-center clinical trials including licensure trials regulated by the U.S. Food and Drug Administration 
Statistical analysis plan development for Phase 2 and Phase 3 FDA regulated clinical trials 
Report generation
Interim analyses
DSMB reports
Study analyses and manuscript development
Frequentist, Bayesian and computationally intense methods such as bootstrapping 
Data Management
The Data Management team consists of experienced staff members that collaborate with the Protocol Coordination team and the Information Technology team to create, test, and validate the data entry systems for each protocol.  Responsibilities of the team include:
Written requirements and specifications for system functionality
Written protocol-specific user requirements and specifications
CRF development
Validation testing
Data management plans
Data management, including overseeing the collection of data for accuracy and completeness
Data corrections and query resolution
Double data entry verification
Fiscal/Administration
The Fiscal/Administrative Group performs the day-to-day tasks of managing the fiscal, administrative, and personnel requirements for the CTSDMC.  Activities include:
Coordination of travel and meeting arrangements for staff
Providing logistical and project coordination for training sessions, investigator meetings, and Steering Committee meetings
Polling and scheduling of teleconferences
Maintaining Center equipment and supplies
Initiation and auditing of Center subcontracts, requisitions and purchases
Preparation of budgets, formal financial documents and specialized reports
Year-end closings of grant accounts
Review and audit of account statements to verify compliance with funding guidelines and restrictions
Human Resource functions for the Center
Database/Information Technology
The computing environment at the CTSDMC is a secure system developed for the express purpose of processing, managing, and analyzing data from multi-center clinical trials. Responsibilities of the team include:
A local area network (LAN), consisting of Windows 2003 and 2008 servers provides file and database storage, web services, data backup, remote access, and printing capabilities
Online data entry systems developed using Microsoft developmental tools with .NET technologies. The applications use a server side scripting technology from Microsoft that allows web developers to generate dynamic data-driven web applications
Multiple security measures including physical security, electronic security, data restrictions, access rights, and electronic signatures.
Back up procedures utilizing Veritas Backup Exec software on a PowerVault 124T tape unit allows the CTSDMC to perform complete back-ups of all web, database and file servers
24-hour/7-day per week coverage by maintaining replication on mission-critical web and database servers 
Protocol Coordination
The Protocol Coordinators perform multiple functions in collaboration with all DMC personnel, as well as the principal investigators, site study personnel, and study sponsors. These functions include:
Development and maintenance of study documents (e.g. protocol, manual of procedures, laboratory manuals, user's guides, etc.)
Training and certification for site study personnel
Site initiation visits
Ongoing support of site study personnel
Ordering and accountability of investigational products on site
Ordering and accountability of study supplies on site
Interim monitoring visits to ensure compliance with the protocol and Good Clinical Practice  guidelines
Facilitating communication between study personnel and various committees with progress reports, teleconferences, and presentations at meetings
Close-out visits
Quality Management
A comprehensive Quality Management program is a vital component of the Clinical Trials Statistical & Data Management Center.  The Quality Management team at the CTSDMC is dedicated to ensuring that all of the data management, information technology, statistical analysis, regulatory, and administrative support services provided by our center meet strict quality assurance standards that are founded in good clinical practices and first principles of sound scientific and statistical research. Responsibilities include:
Development, periodic review, and evaluation of adherence to Center-wide and study-specific Standard Operating Procedures (SOPs)
Training and evaluation of training for Center Staff
Establishing Quality Control metrics and measures for our data systems
Internal audits
Regulatory
The charge of the Regulatory Team is to work with sponsors in compliance with good clinical practices and all of the applicable federal guidelines in the following areas:
Prepare submissions to health authorities
Collect, review, and track regulatory/clinical study documents from clinical sites
Monitor all SAEs to ensure that they are processed and submitted (if required) in a timely fashion per federal regulations
Receive IND safety reports from sponsor and submit to health authorities
Code all AEs and SAEs with MedDRA
Support the Chemistry, Manufacturing, and Control (CMC) Committee